This week, seven M/M romance authors are participating in a Wedding Week event that highlights fun, sassy, sweet, romantic wedding- or marriage-themed books!
The event highlights books by me (DJ Jamison), Brigham Vaughn, Leta Blake, Gwen Martin, SJ York, Cate Ashwood, and Jacki James.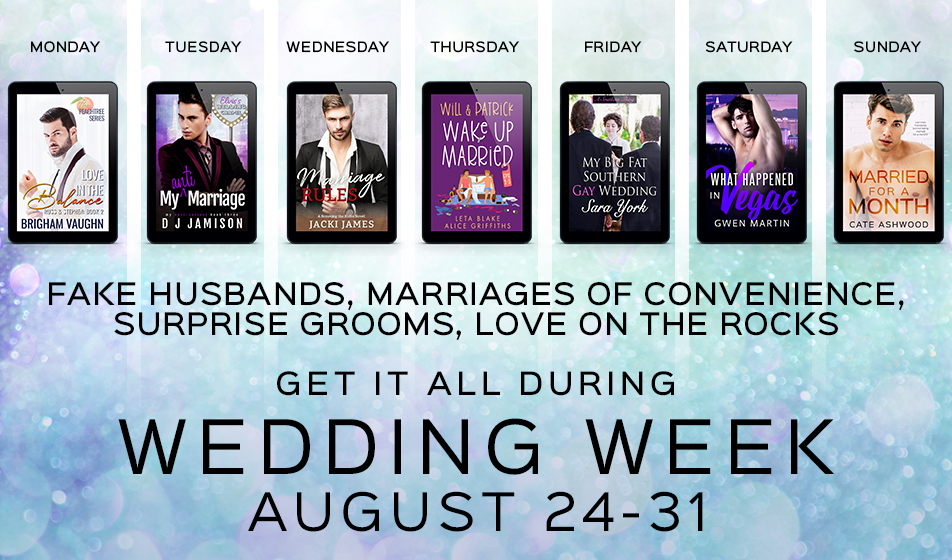 Many of the books have new covers or sales prices, so be sure to check them out! You can find the full list of books here.
The event includes a Group Giveaway Hop and Grand Prize Contest. Each author will post their own giveaway of ebooks, audio codes, or other items — along with a CLUE. Readers can collect all the clues from the giveaways, which are letters, which they will then assemble into words to answer this hint: Something you should do at a wedding!
On Aug. 31, a post will go up in all the participating authors' groups with a link to a form to enter for the grand prize! A winner will be randomly selected from the correct entries and announced the following week.
JOIN THE GIVEAWAY HOP!
Be sure to check out all our Facebook group giveaway contests for your chance at a variety of prizes and to collect clues to enter the grand prize giveaway!

Here's the giveaway schedule. All giveaways will be open through Aug. 31.

The Giveaway Entry Form will be posted in all of the groups on Aug. 31. Happy reading!