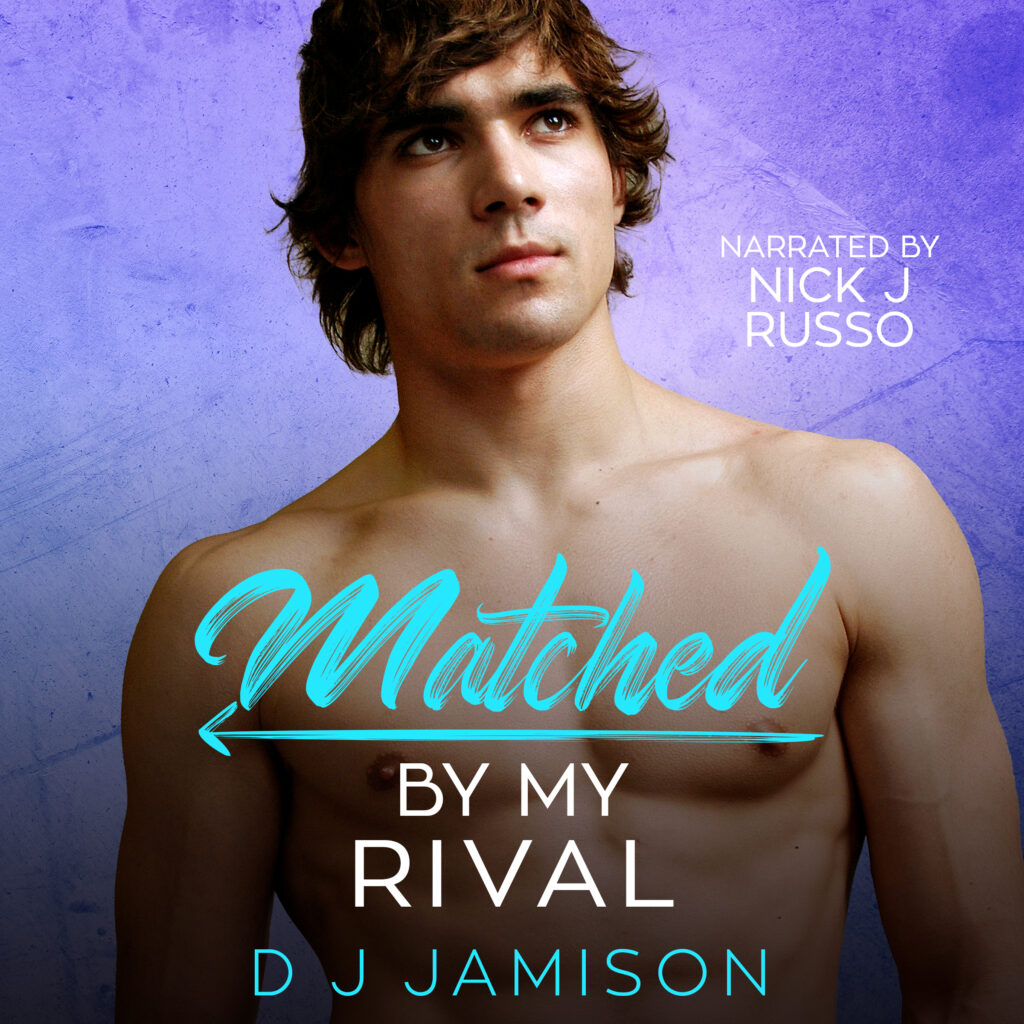 Jaded ex-football star Simon Prentiss gets a heck of a surprise when his app match turns out to be the one guy he hates! But as lust and a burgeoning online friendship collide, will love overcome hostility?
Nick J. Russo does a fabulous job narrating this enemies-to-lovers college romance! Matched By My Rival is Book 2 of the Thrust into Love series. While it can standalone, Book 1–Swiped By My Dad's Best Friend–is already on Audible, and Book 3, Tapped By My Roommate, is coming in March!
If you haven't read Matched By My Rival, you can expect:
Jocks/rivals
Enemies to Lovers
Online Romance
Bisexual Discovery
A sweetly satisfying HEA!
Parker and Simon are one of my very favorite couples, and reviewers seem to agree!
Here's a few excerpts from reviews on Amazon:
"𝘛𝘩𝘦𝘴𝘦 𝘵𝘸𝘰 𝘭𝘪𝘨𝘩𝘵 𝘶𝘱 𝘵𝘩𝘦 𝘱𝘢𝘨𝘦 𝘸𝘪𝘵𝘩 𝘵𝘩𝘦𝘪𝘳 𝘤𝘩𝘦𝘮𝘪𝘴𝘵𝘳𝘺…"
"𝘏𝘦𝘢𝘳𝘵-𝘳𝘢𝘤𝘪𝘯𝘨, 𝘴𝘸𝘦𝘢𝘵-𝘪𝘯𝘥𝘶𝘤𝘪𝘯𝘨, 𝘮𝘦𝘭𝘵-𝘺𝘰𝘶𝘳-𝘦-𝘳𝘦𝘢𝘥𝘦𝘳 𝘏𝘌𝘈𝘛!"
"𝘛𝘩𝘦𝘳𝘦'𝘴 𝘢 𝘧𝘪𝘯𝘦 𝘭𝘪𝘯𝘦 𝘣𝘦𝘵𝘸𝘦𝘦𝘯 𝘭𝘰𝘷𝘦 𝘢𝘯𝘥 𝘩𝘢𝘵𝘦, 𝘢𝘯𝘥 𝘸𝘩𝘦𝘯 𝘦𝘮𝘰𝘵𝘪𝘰𝘯𝘴 𝘤𝘳𝘦𝘦𝘱 𝘪𝘯 𝘢𝘯𝘥 𝘵𝘩𝘢𝘵 𝘭𝘪𝘯𝘦 𝘨𝘦𝘵𝘴 𝘤𝘳𝘰𝘴𝘴𝘦𝘥….𝘪𝘵'𝘴 𝘮𝘢𝘨𝘪𝘤𝘢𝘭!"
You can find Matched By My Rival on Amazon and Audible! The audio is available at a discount if you own the book or download it via Kindle Unlimited!