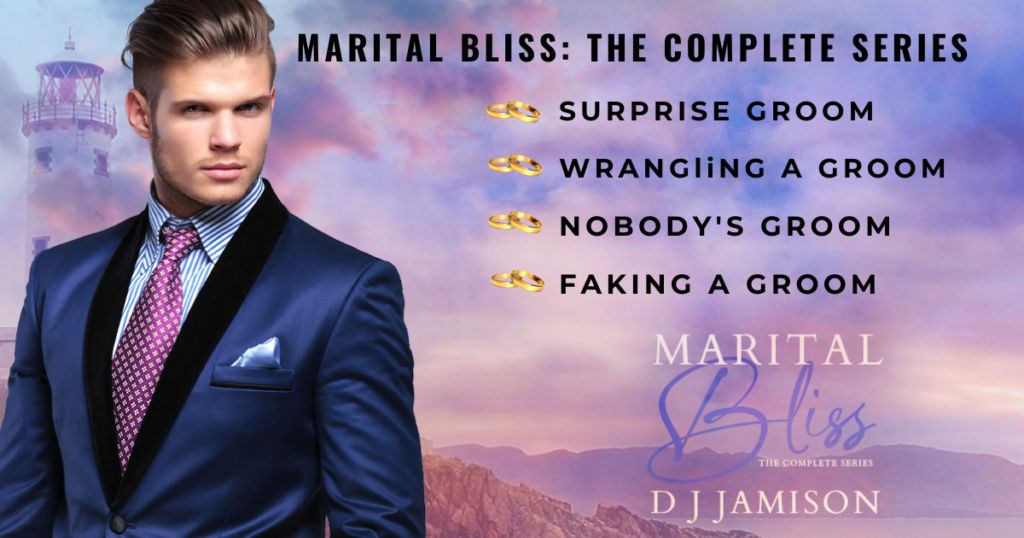 Have you explored Marital Bliss? The series, I mean, not actual marriage 😉
If you're new to my writing, you might not have made it through all my series yet. If so, that's good luck for you! You can grab the complete series in one set for a discount! 
Marital Bliss focuses on marriage tropes, and each couple in the series (with the exception of TJ and Colby in the novella) tie the knot on Bliss Island, off the coast of Maine. Caleb, the main character in Book 1 of the series, runs a wedding resort there.
Here's a brief synopsis of each book =)
Surprise Groom: When Caleb learns his family could lose Bliss Island Resort unless he marries the a child of an investor, there's only one way to beat the man at his own game: Propose to Louis Chastain's estranged, go-go dancing son…
Approximately 90,000 words.
Wrangling A Groom: Wyatt has wanted to marry Diego since they made a childhood pact, but life got messy and Diego slipped away. When his first love returns to the ranch for a funeral, Wyatt is determined win him back and fulfill the promise that has never left his heart.
Approximately 85,000 words.
Nobody's Groom: Colby likes everyone — except the new cowboy on the crew who rubs him the wrong way. TJ is looking for a fresh start, not a young country boy who provokes him at every turn. They're both in for a rough awakening.
Approximately 38,000 words.
Faking A Groom: When Avery decides to call his father's bluff and produce a fiance, his first love, Rory, is the perfect man for the job. But with a love that never fully faded, not everything is fake…
Approximately 100,000 words.

BUY OR READ ON KU